OKF 002
Sound Ceremony
LP
Ltd. to 500 copies (January 2012)
Order from Forced Exposure
"We bring to your attention, an invitation to the bizarre." So goes the final song on Canadian born guitarist and songwriter
Ron Warren Ganderton
1979 LP with his group
Sound Ceremony
. Ganderton self-released three LPs with the band while living in the United Kingdom during the 1970s and 80s. First came "Guitar Star" (1973), then "Sound Ceremony" (1979) and finally "Precious As England" (1981). Despite some modest distribution and frequent gigs, the band never seemed to really take off and Ganderton eventually returned to his native Vancouver (where he still resides), leaving hundreds of unsold records in the attic of his house. While these copies seem to have been lost to the ravages of time, One Kind Favor will now reissue the second Sound Ceremony LP. All of the group's efforts are undeniably unique, but their middle record is the true brain-damaged winner of the bunch. The record surely fits somewhere into the UK punk explosion of the day, but it's also looks back to the mid-sixties rock that Ron cut his teeth on and ahead to some sort of maniac future form of entertainment that perhaps has not been invented yet. Ganderton's mildly "out of it" stream of consciousness lyrics show a clear lack of self-censorship and that's really one of the albums strongest assets. He has created this character of himself as a huge rock star and a sex symbol, and who are we to deny his claims? The band chugs along amiably as Ganderton covers such terrain as his beating heart (it's made of rock), his distaste for education (he'd prefer to teach a lesson in bed) and his electric brain (which happens to be insane). If you've never heard a singer do a count-off all the way up to seventeen, then now is your big chance! Features what is perhaps the greatest anti-cigarette song of all time. One time pressing of 500 copies on black vinyl.
Photo Gallery
Ron Warren Ganderton of Sound Ceremony (OKF 002) sent me this amazing cache of photos and promotional material from the 70s and early 80s. I'm really pleased to make these available for viewing for the first time in years!
View the gallery
. (24 images)
Videos
80s Sound Ceremony!
"Dancing With My Shadow"
"Find A Way Out"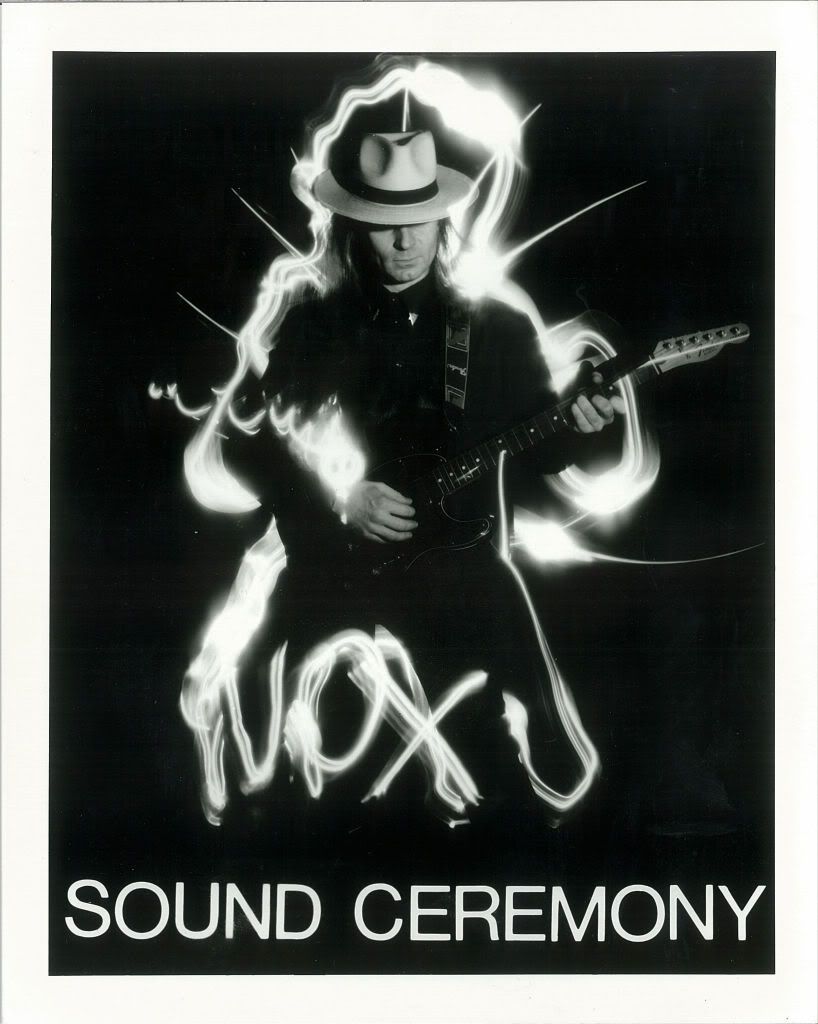 Credits
Guitar and vocals - Ron Warren Ganderton
Bass - Keith Turner
Drums - Robert Ward
Remastered by Jeremy Pisani
Layout by Erika Elder
Assistance by Nemo Bidstrup and Ted Lee
Links
BeatRoute
interview with Ron Warren Ganderton
We are very excited to be reissuing the first Ron Warren Ganderton / Sound Ceremony album "Guitar Star"(1973) sometime in 2013.