M.A.M. Grapes
Mark Alexander McIntyre
Grapes
OKF 009 LP
SOLD OUT
The second LP by the mysterious Mark Alexander McIntyre. Don't let the floral artwork fool you, M.A.M.'s
Grapes
is one of the bleakest records I've ever heard and I'm incredibly "pleased" to be hoisting this slab of depression upon you all. This is a very down-and-out album of original songs written from the point of view of man who seems to be close to the void, or perhaps already within its deathly grips, reaching out to us with his weary, wraithlike voice. The songs seem to be interconnected, with the same characters and themes appearing on multiple cuts. Some of the lyrics deal with pain and loss obliquely, while others confront the harshness of reality head on: stomach problems, factory work, cancer treatment. Most of the material is recorded onto a wavering and echoey tape machine with just acoustic guitar, but as the album progresses, electric instruments and a full band cut through the fog. It's truly a harrowing work, but one that I've been unable to stop listening to since I received these murky recordings nearly two years ago as an unsolicited demo tape. Volcanic Tongue called
Grapes
"one of the premier outsider all-alone folk/psych burnout albums of the goddamn decade" and featured it as their
February 2014 Tip of the Tongue
. Limited edition one time pressing of 300 LPs is
SOLD OUT
here at the source and also from
Forced Exposure
(US) and
Volcanic Tongue
(UK). The artist still has a very limited number of copies left. Write mark.alexander.mcintyre@gmail.com and he'll see what he can do You can sample four songs or download the complete album for $5
here
.
OKF 010
"
I Bake Your Pardon? I Never Promised You An Avant-Garden
" OKF 010 book
by Joeri Bruyninckx
$8 + Shipping
One Kind Favor's first foray into printed matter, a book of Interviews conducted by Belgian music writer Joeri Bruyninckx. Subjects include:
Richard Youngs
,
Matthew Bower (Skullflower)
,
Id M Theft Able
,
Bill Orcutt (Harry Pussy)
,
Keith Fullerton Whitman
,
Mad Nanna
,
Cave Bears
,
Spencer Clark (The Skaters)
,
Kevin Drumm
,
El-G
,
Leyland Kirby (V/Vm)
,
Billy Bao
,
Paul Labrecque (Sunburned Hand of the Man), Mama Bar, Nathan Bowles (Pelt), Tim Goss (The Shadow Ring)
and others. All of the artists are in a class of their own and the interviews are very thoughtful and revealing. Very excited about this one as some of these have only been published in translation, and never in their original English form. Produced in a handsome chapbook style with cover art by
Malcy Duff
. Bruyninckx's work has appeared in Foxy Digitalis, Ruis Magazine and other respected print and online publications. Limited edition one time printing of 200 copies.
ONLY 20 COPIES LEFT
Review of the zine in the Village Voice
.
Tracey Trance
Pyper Kub
OKF 006 LP
In today's world of "internet presence," the music of Tracey Trance is as "real people" as it gets. When Tracey (AKA Tyler, longtime resident of Hangtown, USA) does happen to get on a computer, it's only to spin
r
a
i
n

b
o
w
colored poetry to a friend or figure out the next spot he's gonna park his truck. Although he's been granted releases on such taste making labels as Not Not Fun and Night People, he's turned in lo-fi home recordings that are difficult to pin down in any one time, place or genre.
Pyper Kub
is his debut long playing vinyl and it is a startling and heartfelt departure from the hypnagogic keyboard recordings that many have enjoyed over the last few years. This is a song based record, focusing mainly on guitar, bass and vocals. There's a little Slang Tang, some serious wah-wah, a dollop of Joe Walsh circa
But Seriously, Folks...
and there's a lot of Tyler's odd, elfish spirit. A collection of road songs that plays out in some sort 70s mirror universe. My favorite finds our hero contemplating the fine line between freedom and imprisonment while a K-9 unit searches his truck. This record has a way of growing on you, and I've played my copy of the original ultra-limited cassette release countless times. Nifty vinyl co-release with
Trd W/d
,
Hot Releases
,
Feeding Tube Records
,
Faux Pas Recordings
,
L'animaux Tryst
&
Canada Goose Tapes
. Edition of 700 cream colored vinyl. Each label will provide a different limited edition sticker to go on the front cover. Stream two songs or download the complete album on the One Kind Favor
bandcamp
.
ONLY 30 COPIES LEFT.
Daniel Bachman
Oh Be Joyful
OKF 003 LP
They say that Fredericksburg, VA is the most haunted city in America and it's sons have surely been imbued with the spirit of the American Primitive guitar. The distinct sounds you will hear on
Oh Be Joyful
are inspired by the traditions and lore of Fredericksburg, also the hometown of Jack Rose (may God watch over his soul). This is the second full length LP by steel string guitarist Daniel Bachman (who formerly recorded and performed as
Sacred Harp
). Though young in years, he plays with a technical facility and emotional depth equal to that of the greatest fingerstylists. His
discography
is already full of strong releases, but this new recording is the first I've heard to fully capture the intimate beauty that many have witnessed in his live acoustic performances across the country. Authenticity has been a issue that has plagued folk music for much of the 20th century and these days anyone can pick up a style that was previously known only to a few mountainfolk. While Bachman's playing is surely reminiscent of the spiritual searching sound of Robbie Basho, and indeed the spectre of Fahey looms large, he is no Johnny-come-lately. There is a real open and, dare we say, "Psychedelic" vibe to Bachman's playing that elevates it out of the realm of tradition and into the "now." Limited edition one time pressing of 500 copies.
ONLY 20 COPIES LEFT.
Stream or download the complete album from the One Kind Favor
bandcamp
.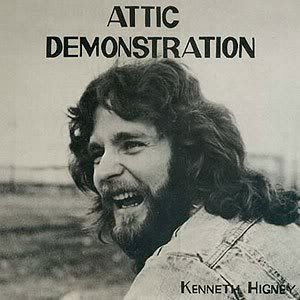 Kenneth Higney
Attic Demonstration
OKF 001 LP
Often considered the Holy Grail of "real people" records, Kenneth Higney's "Attic Demonstration" was never actually intended to be an official release. It was recorded in New York City by Higney and his accompanist Gordon Gaines (R.I.P.) as a vehicle with which to sell Higney's songs to other artists and was only pressed to vinyl in 1976 when he grew tired of duplicating cassette tapes. Apparently the Jandekian dissonance of the "A. Demo." sound was an unintended by-product of the one take demo sessions. Be that as it may, "Attic Demonstration" is a strange sonic world all of it's own. Acoustic guitar ballads of nearly atonal desolation mix readily with rock 'n' roll numbers featuring hiccuping drums and alien sounding electric guitar. All this from a New Jersey truck driver! Official reissue on high quality vinyl remastered from the original tapes with liner notes by Kenneth Higney. The reissue was Volcanic Tongue's
January 2012 Tip of the Tongue
. Second and final pressing of 400 copies available now (identical to first pressing of 500, which is sold out). If you order the LP you'll get a free copy of the reissue of Higney's 1980 single
Funky Kinky
. You can also order the 7" separately.
Listen
.
Kenneth Higney
Funky Kinky
b/w
I Wanna Be The King
OKF 004 7"
Official reissue of Kenneth Higney's 1980 private press 45rpm single. Compared to "Attic Demonstration," the recordings are much more polished. Synthesizers and "pop sensibility" have found their way into Higney's music, and the more I listen to it, I'm convinced this could have somehow taken the world by storm in some sort of post-No Wave context. Don't get me wrong, this is still incredibly strange stuff, with Higney triple tracking his vocals in different registers. "Funky Kinky" is an especially unique come-on to a lady and "I Wanna Be The King" is an "ode or tribute, whatever you'd like to call it, to the NYC punk scene of Max's Kansas City and CBGB's in general and Johnny Thunders (the "King") in particular," according to the artist. "I wanna be the king, I wanna play guitar. I hate the sissy music of John Den-var." Higney goes on to say:
In June of 1980 Kebrutney released a seven inch single of "I Wanna Be The King" b/w/ "Funky Kinky." This was my shot at being a performing writer and these were my first recordings done with the intent of being released to the general public. They were not demos. My thinking was to release a "double A side," which was reflected by the catalog numbers on the label: "KBH-516RAS" for "I Wanna Be The King" was the rock ("R") side and "KBH-516FAS" was the funk ("F") side. A monster record which drowned in the swamp after being chased by the villagers.
Limited edition one time pressing of 500 copies in paper sleeves with polybag.
Listen
Out of Print
Sound Ceremony
s/t
OKF 002 LP
We're
sold out
find a copy on discogs
"We bring to your attention, an invitation to the bizarre." Released in 1979, this record surely fits somewhere into the UK punk explosion of the day, but it's also looks back to the mid-sixties rock that singer and guitarist Ron Warren Ganderton cut his teeth on and ahead to some sort of maniac future form of entertainment that perhaps has not been invented yet. Ganderton's mildly "out of it" stream of consciousness lyrics show a clear lack of self-censorship and that's really one of the albums strongest assets. He has created this character of himself as a huge rock star and a sex symbol, and who are we to deny his claims? The band chugs along amiably as Ganderton covers such topics as his beating heart (it's made of rock), his distaste for education (he'd prefer to teach a lesson in bed) and his electric brain (which happens to be insane). If you've never heard a singer do a count-off all the way up to seventeen, then now is your big chance! Features what is perhaps the greatest anti-cigarette song of all time. Official reissue on high quality vinyl with outstanding remastered sound. Limited edition one time pressing of 500 copies. Stream five songs or download the complete album on the OKF
bandcamp
page. More info and photo galleries
here
.
Deep Thoughts
You can find hundreds of new and used records, tapes and CDs in the
discogs store
for Deep Thoughts, my new record shop. All One Kind Favor releases are listed in the store for your convenience in combining orders. The physical storefront is located at 138b South Street in Jamaica Plain, Massachusetts, USA.
www.deepthoughtsjp.com